Its a new month and new goodies are ready for you! This month the Designers at SNP came up with a fun new kit, called "Locker Talk" You can pick up the full kit for $7.99, the QPs for $5.99, or for some bonus savings, pick it all up with the Bundle option for only $10.99.
We have a new challenge at Scraps N Pieces called the
Collab Kit Challenge! Use the August Collab kit to create a layout that corresponds with the theme of the collab. Check it out here
This challenge will be worth double points!
For participating in the current month's challenge, you will receive a coupon for $1 off next months collab kit as well.
We also have a brand new designer CU Grab Bag this month full of Scatters and Swirls. Look at the full reveal below. You can grab this for 25% off if you hurry and get it the first week.
Our fun new Bits N Pieces kits are also in the store this week. Remember they are only $1 each the first week. You can mix and match the pieces you would like to put together your own kit. The theme this month was Friendship.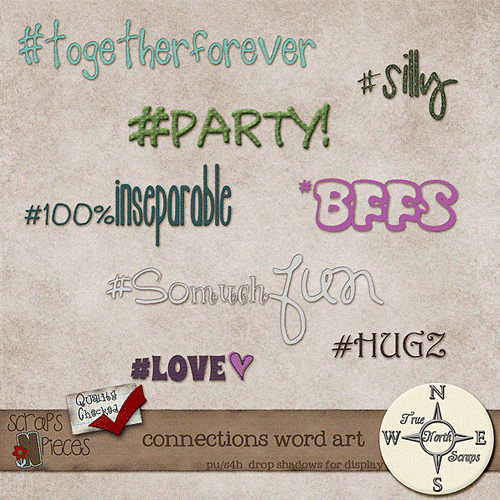 One more thing..............the Scraps N Pieces Fall Retreat is scheduled and we already have a bunch signed up. It is in Vegas (Henderson) and it is going to be so much fun! We can't wait to join up with some old friends and meet some brand new ones. You won't want to miss it and it is affordable to boot!
Hello scrappers! Each month is full of exciting and new things over at Stuff to Scrap!
Check out this month's STS Designer Mega Collab!
This month's Build-a-Kit was around the theme "Harvest Time". A great, fun kit for summer or fall! Check out all these juicy packs!
Don't forget to use that coupon code! AUGUST_BUY3_SAVEHALF will save you 50% off when you purchase 3 or more packs (priced at 1.99 or more).
The Designer Darlings have also put together a great Commercial Use Grab Bag! this one has a general theme of the "Basics" so it's great for any kit!
The whole month of August, we will be having a HUGE Back 2 School Retirement Sale at Stuff to Scrap! Each designer will put products from their store in the
Retirement Bin
with HUGE markdowns! Grab these items before they are gone forever!!
Kit used for ad is Back 2 School by Scraps by Andrea and
is NOT included in the retirement sale.
For August 1-15th, when you make a purchase of $5 or more, you will get this super cute mini from Scraps by Andrea!
Be sure to check out
our forum
where every month we have new challenges and fun chats and events!
Meagan has some exciting news to share. Some of you may know that Meagan was looking for a second store and we can finally reveal where that is...
Meagan's Creations is opening her brand new store at
Gotta Pixel
! Woohoo!
And to celebrate this wonderful start she has put her entire store on a 30% sale!
Have a look at just
some
of the fantastic kits and bundles you can grab! All previews are linked to the store.
Beach Baby:
Childhood Games:
Rough N Tough:
Sugar N Spice:
How fabulous is that?! Don't forget to keep checking back there as she adds more of her wonderful designs.
Hey everyone! I'm so excited to announce that Scraps N Pieces will be hosting an awesome scrapping contest called Scrap It to Win It.
For more information
click here
. To sign up
click here
.
Brooke from Fit 2 Be Scrapped is having a birthday.
I feel like celebrating, so my entire store is 50% off today through Friday!!! And, if you're really fast, I have a coupon good for $2 free with a minimum purchase of $3. But, it's only good for the first three who use it! Just use this code at checkout:
F2BS_Bday
That means you can get the kit of your choice for just $1, or pick up 2 template packs!
Have a fabulous day!!